Partners
A-Eon Technology
(http://www.a-eon.com)

A-Eon Technology, established in 2009, is a company formed by Trevor Dickinson, Anthony Moorley and Ben Hermans with the purpose to develop and manufacture a new high end hardware capable of running AmigaOS version 4 and higher. This hardware, the AmigaOne X1000 is the ideal successor of the former AmigaOne by Eyetech. The AmigaOne X1000 is available as a complete systems only with custom case, keyboard and mouse.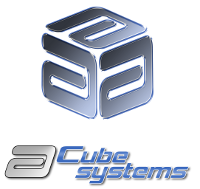 ACube Systems
(http://www.acube-systems.biz)

Established in January, 2007, Italy based ACube Systems is specialised in the developement, building distribution of highly integrated and power efficient hardware. After the Amigaone from Eyetech went out of production, ACube Systems has been for several years the only manufacturer of AmigaOS 4.x compatible hardware.
Worth a mention is their policy of ensuring production following high quality standards and fair social criterias. For this reason ACube Systems is committed to keep the whole development process in Italy.
So far ACube Systems manufactured three mainboards:
Sam440ep, a mini-itx form factor main board based around the AMCC 440 SoC (System on a Chip) and featuring SATA, USB2, Radeon M9 graphics and audio on board. This board has actually reached it's end of life and is out of production.
Sam440ep-flex, a Flex-ATX variant of the Sam440ep, with on board graphics removed to lower the board price and with 3 PCI slots to allow further expansions.
Sam460ex, the latest product from ACube Systems, is based around the AMCC 460ex SoC running at 1 - 1,15 GHz, featuring SATA2, USB2 GBit Ehernet, PCI and PCIe slots together with the Silicon Motion SM502 multimedia chip (embedded graphic and audio). Note that the cost reduced version Sam460cr does not carry onboard video, audio or SATA anymore.
ACube Systems sells both barebones mainboards and full systems. Starting from 19th September 2011, the full system based around the Sam460ex is marketed under the official, licensed, brand of AmigaOne 500.
Aside from AmigaOS 4.x compatible mainboards ACube Systems is known for the production and distribution of the highly successfull Minimig, an FPGA reimplementation of the original Amiga500.