History of AmigaOS
AmigaOS 4.0's inception dates back to 2002 when an agreement was reached to port AmigaOS to the PowerPC platform.
Building on the sources of AmigaOS 3.x, Hyperion released the first alpha of AmigaOS 4.0 in 2004 to beta testers. The first full public release reached users in 2006.
Hyperion Entertainment are planning many more revisions and updates to AmigaOS. The authentic Amiga experience continues.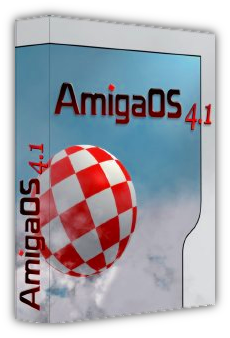 AmigaOS 4.1
31 December 2016
AmigaOS 4.1 Final Edition, Update 1 released by Hyperion Entertainment
18 December 2014
AmigaOS 4.1 Final Edition released by Hyperion Entertainment
12 October 2013
SDK 53.24 released for AmigaOS 4.1
30 November 2012
AmigaOS 4.1 Update 6 released by Hyperion Entertainment

16 August 2012
AmigaOS 4.1 Update 5 released by Hyperion Entertainment
20 April 2012
AmigaOne X1000 AmigaOS Update released by Hyperion Entertainment

22 December 2011
AmigaOS 4.1 update 4 released by Hyperion Entertainment
29 August 2011
AmigaOS 4.1 update 3 released by Hyperion Entertainment which brings all the hardware versions to the same baseline
17 May 2011
AmigaOS 4.1 update 1 released by Hyperion Entertainment for PowerPC equipped Classic Amiga computers
April 2011
AmigaOS 4.1 released by Hyperion Entertainment for PowerPC equipped Classic Amiga computers 
27 January 2011
AmigaOS 4.1 update 2 released for the Sam460ex
29 September 2010
ACube announced the availability of the Sam460ex board in the second half of the October 2010
30 April 2010
AmigaOS 4.1 update 2 released by Hyperion Entertainment for all supported hardware
20 February 2010
Hyperion Entertainment announces partnership with A-EON
14 January 2010
AmigaOS 4.1 update 1 released by Hyperion Entertainment for all supported hardware
21 August 2009
SDK 53.15 released for AmigaOS 4.1
21 June 2009
A quickfix update released by Hyperion Entertainment for all supported hardware
2 April 2009
ACube announced the availability of the Sam440ep-flex
31 January 2009
AmigaOS 4.1 released for the Pegasos II
26 January 2009
SDK 53.13 released for AmigaOS 4.1
20 October 2008
AmigaOS 4.1 beta version released for ACube's Sam440ep
September 2008
AmigaOS 4.1 released by Hyperion Entertainment
AmigaOS 4.0
23 February 2008
AmigaOS 4.0 update for PowerPC equipped Classic Amiga computers released
November 2007
AmigaOS 4.0 released for PowerPC equipped Classic Amiga computers
22 October 2007
ACube's Sam440ep released for end users with a beta version of AmigaOS 4.0
18 July 2007
AmigaOS 4.0 July update released
25 March 2007
Hyperion Entertainment and ACube Systems announced that they have entered into a strategic partnership
24 December 2006
AmigaOS 4.0 final released by Hyperion Entertainment. This version supports AmigaOne computers like the MicroA1-C and AmigaOne XE.
8 February 2006
AmigaOS 4.0 pre-release 4 released by Hyperion Entertainment
14 June 2005
AmigaOS 4.0 pre-release 3 released by Hyperion Entertainment
27 December 2004
AmigaOS 4.0 pre-release 2 released by Hyperion Entertainment
10 October 2004
AmigaOS 4.0 pre-release 1 released by Hyperion Entertainment
AmigaOS history before AmigaOS 4.x
4 December 2000
Workbench 3.9 released by Haage & Partner
18 October 1999
Workbench 3.5 released by Haage & Partner
1994
Workbench 3.1 released. This is the last AmigaOS released by Commodore
1992
Amiga Workbench 2.05, 2.1 and 3.0 released
1991
Amiga Workbench 2.04 released
1990
Amiga Workbench 1.3.3, 1.3.4 and 2.0 released
1989
Amiga Workbench 1.3.2 released
1988
Amiga Workbench 1.3 released
1986, 1987
Amiga Workbench 1.2 released
December 1985
Amiga Workbench 1.1 released
October 1985
Amiga Workbench 1.0 released for the first time